Now Xinda has been a famous brand in compounding extruder machine industry. Since now, Xinda has over 33 years industry experience and over 2800 lines running in 65 countries.
years experience in manufacturing
process and customization
sets CNC machining Center and Processing
Equipment & Facilities
Co-kneader— Compounding Extruder Expert
The Co-Kneader, a low-shear rotating and reciprocating single-screw extruder is designed for shear and temperature sensitive compounds.
Co-Kneader is different from traditional single or twin screw extruders because of its unique mechanisms. The spiral of the kneading screw is detached three times at the circumference. In those gaps are the stationary kneading pins, which are fixed inside the kneading case. While the screw is circumrotate, so too does the axis, moving reciprocally.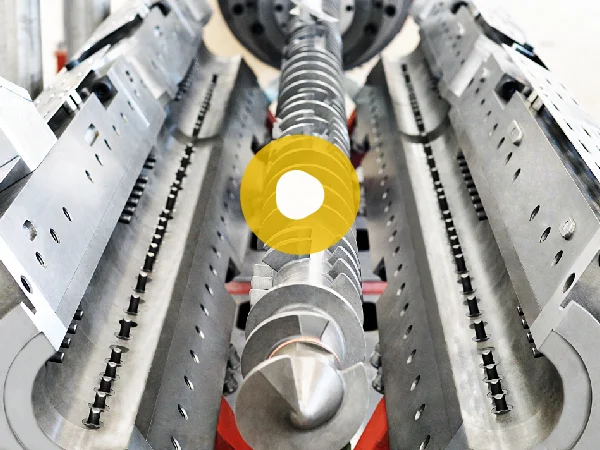 Years of experience in producing plastic compounding system
Compounding extruder lines & Twin screw extruder are running in 65 countries worldwide
Customers all over the world, including PolyOne, 3M…,etc.
XINDA , founded by Mr. Kong Xiangming in 1988, is a prominent enterprise known for its outstanding products in areas both domestic and abroad.  Since then, Xinda has been focusing on producing the equipment and supply the turn-key solution for compounding and extruding industries.
In 2015, XINDA moved to its new headquarters with new plant with 40, 000SQM. In this year, XINDA also promoted its brand-new SKW series Four-Flight Co-kneader to market, with higher speed, bigger capacity, better mixing, lower energy consumption.